First Staff Volunteer Day
In February, the staff participated in their first official Volunteer Day at the
Rio Grande Food Project
. As a team we decided that we want to start giving back to the communities we are supporting, so we have decided to schedule a volunteer day twice a year at an organization the Foundation is supporting through the competitive grants program.
It was an all morning event that began at 8:00 a.m. When we arrived, Ari Heering, the Executive Director, assigned everyone a job. From checking people in to putting the food boxes together. Each food box has specific items that go in it and are assembled in small boxes for one person to large boxes for a family of four or more.
Ari and her team of volunteers were very helpful in showing us how everything worked. Many of the volunteers at Rio Grande Food Pantry (RGFP) are there two to three times a week, every week. Their dedication and hard work goes above and beyond, week after week. It was a busy and great experience and we can't wait to do it again in the fall. It is always inspiring to be around such grace in giving and to be able to see, first hand, the Foundation's mission in action.
"I believe that it is important to step outside our workplace and put ourselves at the front of the service provider. We know the impact our funding at The Catholic Foundation has but volunteering together at the source helps us focus on others as a group and helps us to see firsthand, the tremendous work for those in need." ~Ed Larrañaga, President of The Catholic Foundation.
At RGFP, hungry households can pick up a week's worth of food once a month. They distribute frozen as well as fresh fruits and vegetables, dairy products, frozen meats, beans and rice, breads and dry and canned goods. In addition to their monthly food box program, they provide weekly groceries to medically-referred clients who are food insecure and have a chronic health condition that is related to hunger.
Hunger is a chronic condition in New Mexico, which ranks 2nd in childhood hunger and 7th in hunger overall, in the nation. In Bernalillo County, 1 in 6 residents do not know where their next meal will come from. The day that the staff volunteered, at RGFP, the line went out the door and around the building. They serve 100 or more on any given distribution day.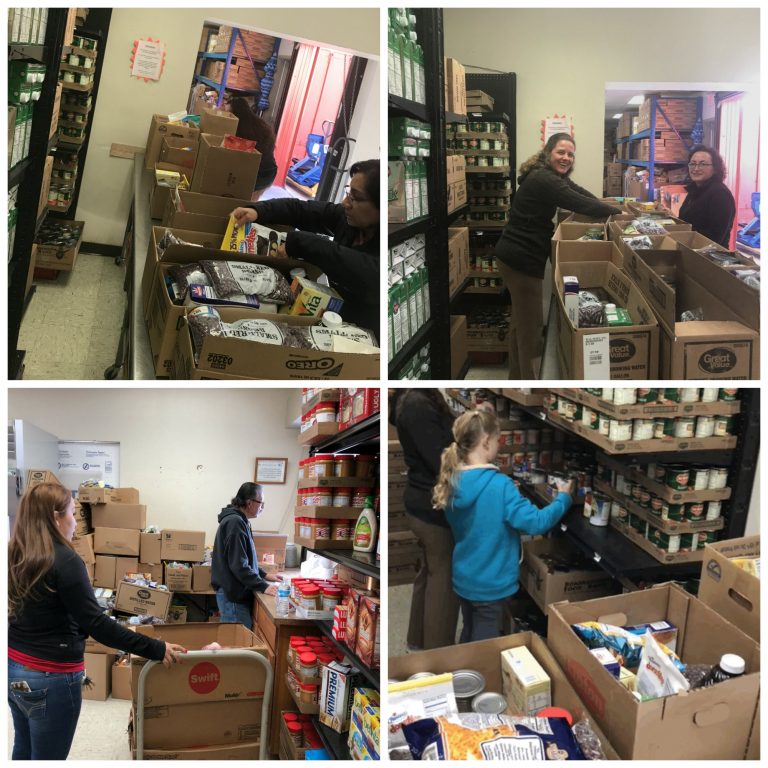 "

If we see someone who needs help, do we stop? There is so much suffering and poverty, and a great need for good Samaritans.

"

Pope Francis