A $1,000 For Your Favorite Teacher
""Train the young in the way they should go; even when old, they will not swerve from it.""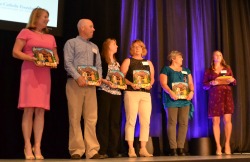 Do you know a Catholic school teacher, coach, librarian, or counselor who inspires, motivates, and challenges their students to reach academic excellence? Are they an excellent Catholic role model? If you do, fill out a nomination form and submit it to the principal, so they can be considered for this year's Catholic Award for Teachers.
What are the Catholic Awards for Teachers?
In 1998 an endowment was established by an anonymous donor to recognize the positive influence of teachers within the Archdiocese of Santa Fe. The donor wanted to award Catholic school teachers for their hard work and dedication to education and their students, so each year up to six teachers are awarded $1,000 and the school that they teach at is awarded $100 towards that school's endowment.
The deadline for submitting the nomination form is April 26, 2019. The awardees are chosen by an independent committee appointed by the donor.
I would like to make a contribution to the Catholic Award for Teachers Endowment
Catholic Awards For Teachers
Information about the CAT Awards and how to nominate your favorite teacher.