A Gathering of Catholic Foundation Leaders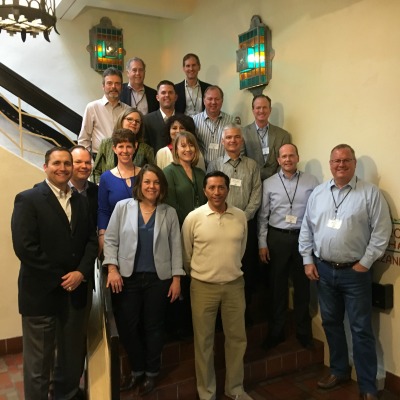 "And it is he who gifted some to be apostles, others to be prophets, others to be evangelists, and still others to be pastors and teachers, to equip the saints, to do the work of ministry, and to build up the body of the Messiah." Ephesians 4:11-12
Every year Catholic Foundation leaders from across the United States come together at a symposium to share ideas and catch up on what's happening in the world of foundations. This year we hosted the Catholic Foundation symposium in Santa Fe in May.
Twenty-five leaders attended this year's event, where they discussed myriad topics such as: increasing planned gifts, affinity groups, and board engagement. The symposiums were started several years ago with the idea of sharing and learning from each other and it has been very successful year after year. It is a tight squeeze to fit in so much information in a span of two full days, but worth the effort. Because not all topics can be discussed at the event, Foundation leaders communicate throughout the year, helping each other tackle big and small issues or to discuss new ideas.
It's not only about workshops, it's also about networking and show-casing the diocese. This year there was a meet-and-greet happy hour, a private mass with Archbishop Wester, and a private tour of three missions in northern New Mexico. The meet-and-greet gave our Board members and staff an opportunity to talk with our guest leaders and the outing gave us a chance to show some of New Mexico's treasured mission churches and the reason historic preservation is important to our Archdiocese. A big thank you goes to our Board member, Annette Hayden, for her help in organizing the mission tour.
Next year's symposium will be held in Atlanta, GA and hosted by the Catholic Foundation of North Georgia.
Learn more about our mission.